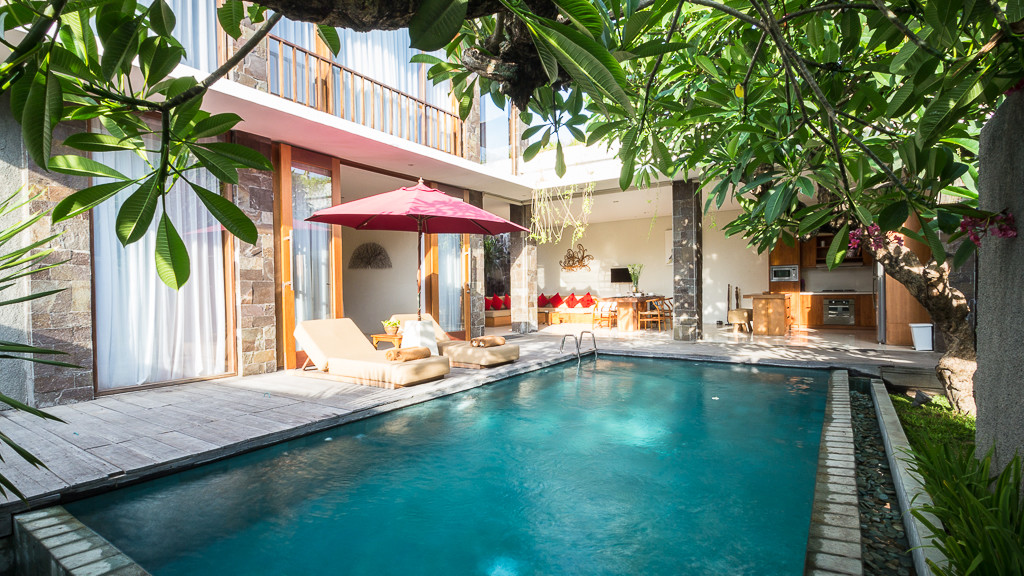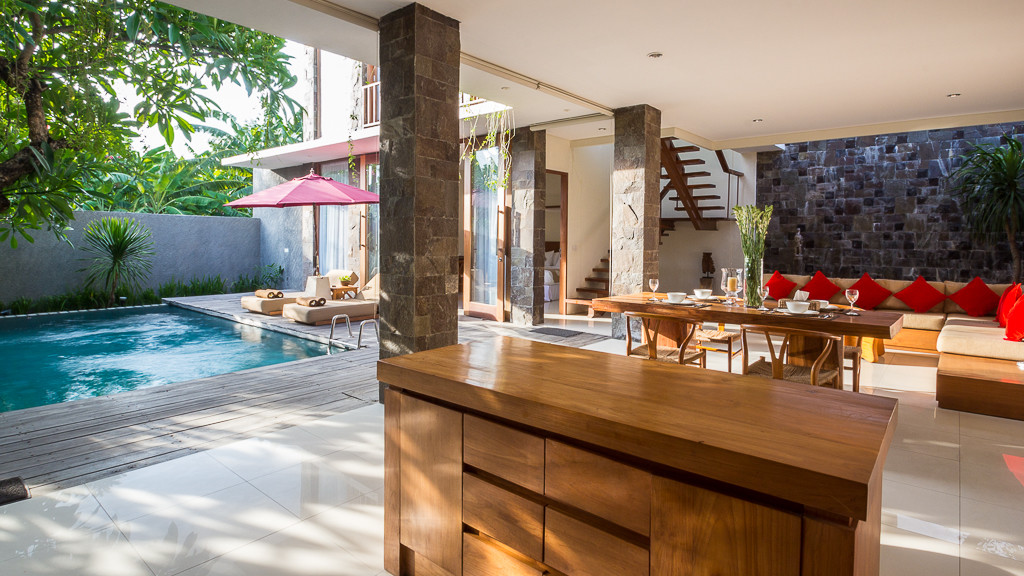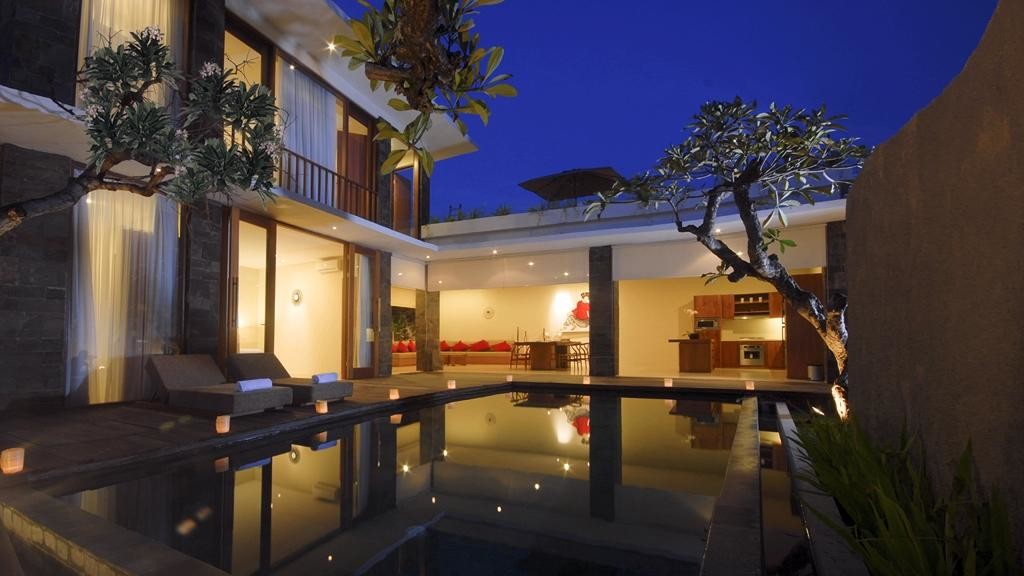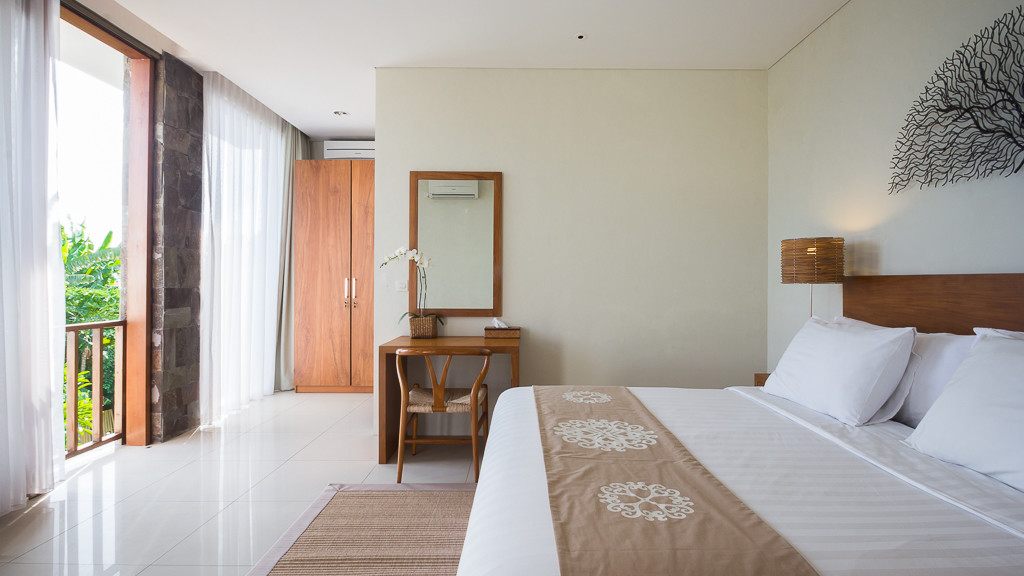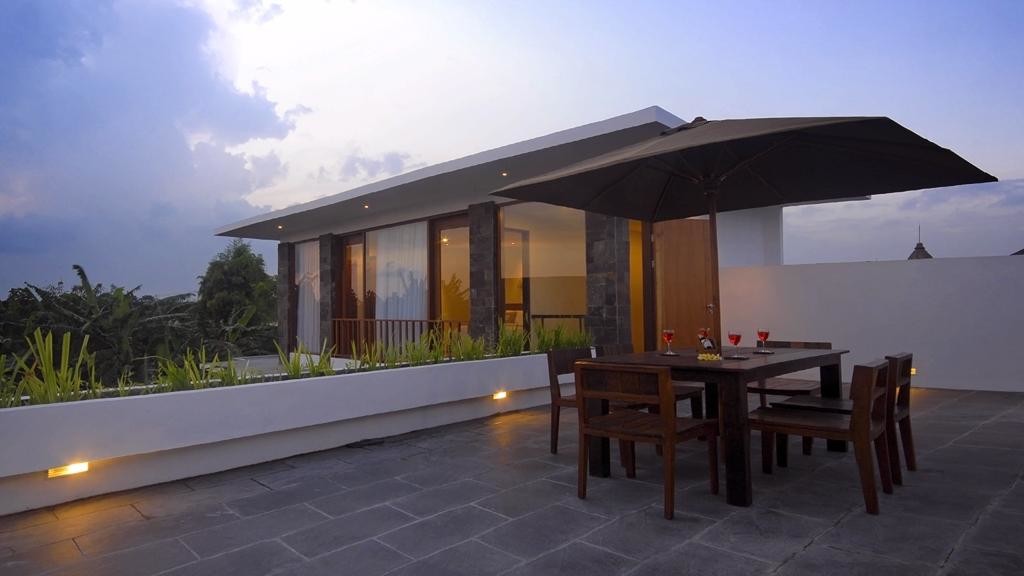 About Villa Ruandra
Villa Ruandra is a
charming two-bedroom holiday home found in the heart of chic and trendy Petitenget.
The villa is located just a five minute drive from the center of Seminyak and even closer to high-end restaurants, well-appointed spas and world famous beach clubs. With a
tropical open-plan living
, a lovely private garden and pool, two restful bedrooms and a great value for the price, villa Ruandra is
idyllic for two couples or families keen on being close to the action of South Bali.
Simple, modern and conveniently located, guests can rest assured when they rent Villa Ruandra as their holiday home on paradise island.
Outdoor and pool area
Guests will enter in the
private walled garden
of villa Ruandra. The
inviting glistering swimming pool
is surrounded by a timber deck with two plush reclining chairs and overgrown frangipani trees which add a lovely scent of the flowers to the garden. There is also a
BBQ on-site
for when guests want to host a small dinner party or have the staff help to prepare a gourmet feast.
The living area
The living room of villa Ruandra is tucked in a traditional open-plan pavilion, giving a
wonderful tropical feel
to the space and making it easy to keep an eye on the kids playing in the pool while parents are enjoying some snacks and drinks inside. The living room is furnished with
comfortable lounge and dining areas
as well as modern entertainment facilities including a
large flat-screen satellite TV, a DVD player, iPod dock and music speakers.
The kitchen to the side is compact but well-equipped with low bar stools, a coffee maker, microwave and stove-top. Guests will be delighted to find a
breezy rooftop terrace
on the first floor where
alfresco meals
can be enjoyed while watching Bali's sun set to the west before the moon and stars come out.
The master bedroom
The master bedroom is located downstairs with easy access to the pool and open-air living area. This master suite features a king-size bed in the center of the room, two tables and lamps on either side and a writing desk against the wall. The rooms also features air-conditioning and a
flat-screen TV with satellite channels and a DVD-player
for entertainment. To enter the bathroom, guests walk through a
spacious dressing room
complete with large wardrobe closets and a safety deposit box to store personal belongings. The bathing area is set in an indoor/outdoor setting with a
large ceramic tub
, a shower recess and a single washbasin.
The guest bedrooms
The second bedroom is located upstairs, offering its guests
lovely views of the pool below and the surrounding landscape.
This room also features a king-size bed, a desk with vanity mirror and a flat-screen TV directly in front of the bed. The private en-suite bathroom features shower facilities and a washing counter.
Staff and services
Guests will be welcomed warmly with tropical cold drinks and nice cool towels by the friendly Balinese staff. There is daily housekeeping, a gardener and a pool attendant.
Around Villa Ruandra
Villa Ruandra is located in a quiet gang of the chic and trendy Petitenget district,
near to famous restaurants such as Sarong and Sardine
and also close to the renowned
Potato Head beach club.
The hustle and bustle of
central Seminyak
is just a 5 minute drive away, giving guests easy access to all of the shopping boutiques, cafés, restaurants and spas that Seminyak is so famous for.
Click here to see all 22 villa pictures
Villa Ruandra was conveniently close to the shops and restaurants in Seminyak. The atmosphere was quiet and tranquil with great amenities and a beautiful open planned living space and an amazing private pool that was perfectly shaded by frangipani trees. My friend and I were well looked after by the staff and we had a late flight and they were nice enough to let us have a late checkout which we greatly appreciated. Overall a luxurious experience that I highly recommend to people who want to be close to the centre of town but that also want a tranquil, private relaxed holiday.
My sister and I stayed at Villa Ruandra last week and we absolutely loved it!! Made and our driver (Lam?) were so adorable and helpful and we wouldn't change anything about it. There's a restaurant down the street called Mozarella Bar that we had dinner at 3 times out of our 5 nights there because the food and service were so good! Highly recommend Villa Ruandra and we're definitely coming back.
Very nice house ! Good location, good staff and very well maintained. Modern furniture and very well equipped. We highly recommend this villa.
Villa Ruandra was a great place for us to stay on our first visit to Bali. It was clean and very impressive on first look. Made was absolutley fantastic in every aspect. He was very helpful in providing information and recomending Dewa our driver whom we already miss! Thank you Made for your services. I would definitely recommend villa Ruandra to family and friends because of you and how much you made us feel comfortable and welcome.
We had a fantastic time at Sanctuary Villas! Room was great with an amazing view, great location and very helpful staff! Highly recommended!
Villa Ruandra was incredible! Very spacious 2 bed villa, stunning master bedroom with french doors opening on to the pool and beautiful balinese style en suite bathroom. The Rooftop area with table and chairs was a fantastic spot for a bintang in the sun. Excellent location, within easy walking distance of Seminyak Square, beach bars Potato Head & W, amazing restaurant Merih Putih a block away for an outstanding dining experience. Supermarket at the end of the driveway was also a real bonus. Mada kept the house spotless throughout our stay and was a special part of our holiday - Thank you Mada! He also recommended a fantastic driver Dewa which we used repeatedly throughout our stay who recommended fantastic destinations for us to visit - Dewa was by far the best driver we experienced in bali and would definitely use his services again. We all agreed that we would definitely stay at Villa Ruandra again for our next visit to the beautiful Bali! Thank you for an outstanding stay!
Villa Ruandra was an absolute amazing Villa in a fantastic location. I could not find a fault with any of the facilities. I would definitely recommend the Villa to family & friends. My home for a week was extremely hard to leave. Thank you
This is a very valuable choice. Small villa, but very cozy. We are groups of five people, with an extra bed. The villa manager and housekeeper are nice and helpful. The villa is located in Seminyak, very fast to travel to major tourist areas. The bedrooms are comfortable. The environment is new and we like the swimming pool a lot. Very good choice for small group (likely less than 5 to 6) who want to book villa in Bali. I really enjoyed the time I had in this villa!
The place was set out well, we were very comfortable and enjoyed the villa and it's services a lot, would definitely recommend to anyone travelling to Bali
Our stay at villa Ruandra was over all expectations! We were especially satisfied with our housekeeper (Made) and the service he provided us. The only thing that was a little disappointing was the choice of breakfast, but it didnt really matter as the food was so cheap anyway! we would definiyely stay here again :)
A little out of the way, but definitely value for money...
Here are our availabilities for the next few months:
Minimum stay
1 Rooms
2 Rooms
from 25/04/2017 to 01/07/2017
Low season
2 nights

USD $

170

USD $

207

from 01/07/2017 to 01/09/2017
High season
3 nights

USD $

250

USD $

285

from 01/09/2017 to 20/12/2017
Low season
2 nights

USD $

170

USD $

207

from 20/12/2017 to 11/01/2018
Peak season
3 nights

USD $

300

USD $

335

from 11/01/2018 to 15/02/2018
Low season
3 nights

USD $

170

USD $

207

from 15/02/2018 to 22/02/2018
High season
5 nights

USD $

250

USD $

285

from 22/02/2018 to 27/03/2018
Low season
3 nights

USD $

170

USD $

207

from 27/03/2018 to 04/04/2018
High season
5 nights

USD $

250

USD $

285

from 04/04/2018 to 01/06/2018
Low season
3 nights

USD $

170

USD $

207